Alexis "Le Trotteur" Lapointe (1860-1924)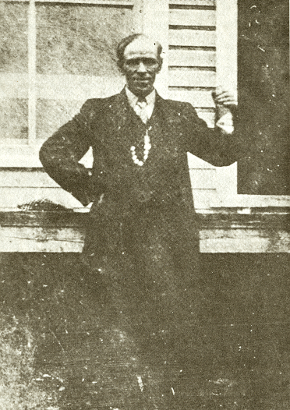 Before the creation of the Boston Marathon, before Pierre de Coubertin decided to re-create the Olympics with its marathon event, before any running legends could be created in North America, Canada already had its running legend. Throughout his lifetime, he would be known by a few nicknames, from "Nigaud" (idiot), to "Cheval du Nord" (Northern Horse), "Surcheval" (sur-horse), "the flying horse of the Saguenay", but the nickname that stuck to him was "Le Trotteur" (The Trotter).
Le Trotteur was born as Alexis Lapointe in 1860 in Saint-Étienne-de-la-Malbaie, Québec. His mother, Delphine, delivered him five months premature which surprised the faculty of medicine of Laval University in Quebec. His childhood was spent on a farm with his 13 brothers and sisters. With such a large family, a small boy such as Alexis would need to come up with something to attract attention. He was a rambunctious child with loads of energy. Working on a farm was not a task for the weak and Alexis completed various chores on the farm. This would build up his stamina that would carry him far in the future.
As with most children, Alexis loved to compete against his peers, running against anyone who would challenge him. Unlike most of us, he had the talent to win most of his races. Alexis was a great runner, but he was not necessarily a handsome man. He had this habit of distorting his face and making grimaces. It is on the farm that he developed a love for horses and a love of running. Over the years, he transformed his attitude, and his love and talent for running into fame and legend.
Unfortunately, farm work was not conducive to schoolwork, so he did not have an opportunity for a formal education. His level of education was such that he was sometimes considered a "simpleton". His smarts however were more the street smarts of those days. He was known as a joker and loved to surprise people. He was wise enough to capitalize on his talent and build himself a reputation.
Tired of farmwork, he left the farm and amongst his many occupations, he started building bread ovens. In those days, most households had an oven for bread and Alexis would travel the countryside to build these ovens.
He could often relate more closely to horses that humans. He loved to portray himself as a horse. He acted that way by neighing. He went as far as slashing himself with twigs as jockeys would do on their horses. He used the twigs to awaken his muscles before going on his famous jaunts or races. Not only could Alexis beat his friends in running races, he raced against horses, early automobiles or even trains and boats.
One of his famous legendary stories involves a race against a boat. Not being allowed to join his father on a boat trip from Bagotville to Chicoutimi, he exclaimed to his departing father, "When you arrived in Chicoutimi, I'll be waiting for you." Alexis ran home, picked a few belongings, slashed his legs with twigs and off he went towards Chicoutimi. The boat left at 11 in the morning and was supposed to arrive at 11pm. Alexis would then have 12 hours to complete a distance of 146 km. When the boat arrived, to his father's surprise, Alexis was waiting for him.
His prowess for running was partially innate, but it also incorporated a tremendous amount of training which was in the form of various cross-training activities, from dancing, to jumping to hard physical labour. He had boundless energy, dancing for hours on end. He also played the harmonica.
Another story of Le Trotteur deals with his boyhood desire to join a party. Unfortunately, the party was far away, and his older friends would not let him join them on the horse carriage as they were going to see their girlfriends. When a young man has an eye for a party, he is unstoppable, especially if you had the legs and the lungs of Alexis. He apparently told himself that with a whip, he could whip himself into a fury and run like a famous horse of the time, Poppe, the Northern Horse. He made his way across fields and covered the 43 km faster than his elders. Unfortunately, the priest who was organizing the party would not allow him to join, especially as it was too early, and no one had arrived. The priest scolded Alexis and threatened to punish him for wanting to play a trick on his elders. Alexis, afraid of getting a beating, ran back home.
Even in his older years, Alexis kept up his running and surprised many. Once he started slowing down, he gained employment as a lumberjack and a construction worker. He died on June 12, 1924; legend has it while racing a locomotive. Actually, it was an accident when he stumbled trying to get out of the way of a locomotive.
In the Saguenay, the historical society has a historical display on Alexis. A series of French comic books were created about him. A painting of him racing a horse demonstrates how his legend has jumped into modern folklore. They use his legend as learning material in some Quebec schools. Songs were even written about his exploits.
Alexis Lapointe can be considered the first pioneer in Canadian distance running. Its first ultramarathoner, its first running champion, and its first running hero and legend.
Photo from: Société d'histoire de Charlevoix
Bibliography:
Barbeau, Marius. (1936) Kingdom of Saguenay.
Larouche, Jean-Claude
Barbeau, Marius. Le Saguenay légendaire, Beauchemin, Montréal, 1967
https://www.lapresse.ca/actualites/quebec-canada/national/200911/07/01-919442-alexis-le-trotteur-remis-en-terre.php
http://www.ameriquefrancaise.org/en/article-412/Alexis_Lapointe,_a.k.a._Alexis_le_Trotteur_(1860-1924):_the_Man,_the_Legend.html
Source: BARBEAU, Marius. Le Saguenay légendaire, Beauchemin, Montréal, 1967, p. 93